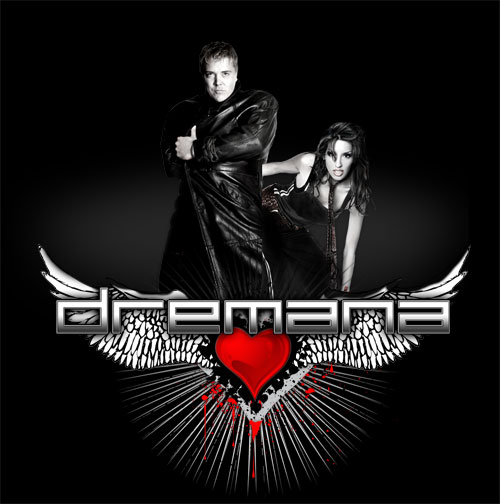 "A mini-orchestra"
-Chicago Tribune
"Grace Sharington and Spam are the real deal."
-George Gurley
Vanity Fair
"Dremana has produced one hell of an impressive record that only
gets more fascinating the more listens you give it; complicated, intense
anthems filled with beauty, attitude and soaring power"
-Liam Thomson
StateOfEmergency/UK/USA
DREMANA was created in 2000 by songwriter Grace Sharington
and Russian-born composer/producer Spam. The duo laid the foundation for
DREMANA by writing and recording 11 original songs in a state-of-the-art recording
studio they specifically designed for their needs.
DREMANA continues to grow and evolve. Today, Dremana Productions Inc. includes
multimedia/recording studios in both Chicago, IL. and Austin, Tx., where – when they aren't creating new music – they specialize in video production, online marketing, SEO, and high-caliber web development.
Sharington's past experience includes writing for hard rock icons The Scorpions to multiple RCA artists such as 
Gillette and Max-a-million. Spam was the original front man and composer for Euro-rock band "Thou," and has since 
produced artists such as Jersey Moore, Monica Watkins, Krystine Nova, and of course, DREMANA (visit archived website here.)
DREMANA'S live show is known for their
 network of revolving guest musicians which include house-music pioneer Jamie Principle, who hit #1 on 
Billboards's Dance Chart in '04 for his collaboration with Frankie Knuckles, "Bac N Da Day." Performer Leah Beabout, dubbed 
"Feminem," by Spin Magazine, raps on DREMANA'S song "Roach Coach." Other guests include Chicago guitarist/artist Karl 
Geckler, "Bloodshot" drummer Ziggy, and "DeFunct" bass and drum combination Jason Habbley and Greg York. The band has held two positions on XM RADIO'S "TOP 20 MOST PLAYED UNSIGNED BANDS." DREMANA'S do-it-yourself approach is working.
Currently, with the help of various Austin-based musicians (see VIP links) and David Marshall at Fast Horse Studios, Dremana has just released the single "Just One You." A song originally written for The Scorpions (hear a sample of The Scorpion's version here) by Scorpion's bassist Ralph Rieckermann and Sharington. DREMANA plans to assemble a new lineup for live performances kicking off at Austin's SXSW conference in 2011.